FORBES | Major Summer Fun Fashion Trends That Rise To New Heights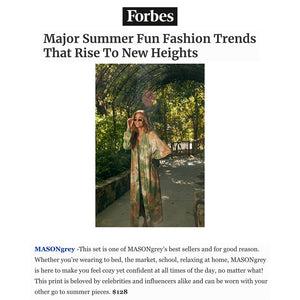 "Year after year, Consumers are chasing the same summer goal: Having Fun In The Sun.
An amazing moment for every American woman in the summer—is finding the right items to wear in lightweight, colorful, and clean -cut styles. More to the point, once the item is purchased, it is a jolt of energy, a reminder of why you made that decision.
This behavior which collectively makes-up the majority of today's consumers. sits at the top point of every consumer, regardless of the demographic. But as we enter the era of Gen Z as the predominant demographic, versatility and extreme durability, compliment this generations lifestyle.
The great thing about online shopping is the high-speed of the transaction as well as the quick delivery. When it comes to today's consumer, that's especially true. And creative product offerings made from biodegradable product, is perfect for making a stylish, eco-friendly statement. This summer, not only must the product work but also be appropriately priced, readily available, and sustainably made. Classics are back in a big way and the more statement-making styles can easily be worn into early fall which deems the item worthy to purchase in August 2021.
Here, I have listed everything you need to know about major summer trends that flow easily right into pre-fall - making it the right purchase.
Welcome to the summer of Generation Z!
This set is one of MASONgrey's best sellers and for good reason. Whether you're wearing to bed, the market, school, relaxing at home, MASONgrey is here to make you feel cozy yet confident at all times of the day, no matter what! This print is beloved by celebrities and influencers alike and can be worn with your other go to summer pieces." 
https://www.forbes.com/sites/josephdeacetis/2021/07/31/major-summer-fun-fashion-trends-that-rise-to-new-heights/?sh=d5d1859f2c0e