INSTYLE | It Took Dakota Johnson a Millisecond to convince me to buy a silk robe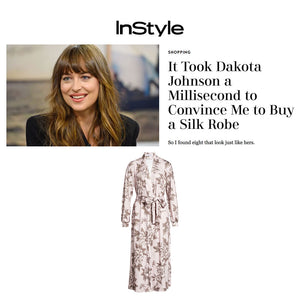 "
Dakota Johnson may have lied about loving limes, but she just made up for it — in my eyes, at least — by wearing the most unexpected attire for a remote television appearance.
Whenever I hop on a Zoom call, I'll do the usual "business on top, loungewear on bottom" move by throwing on a button-down or a sleek turtleneck to disguise the fact that I was actually wearing a full sweatsuit two minutes ago. But Johnson just convinced me that a wardrobe swap isn't necessary if I simply opt for a sleek silk robe that's camera-friendly.
Johnson showed up for a virtual appearance on "The Tonight Show Starring Jimmy Fallon" in a floral-print silk robe from Bernadette Antwerp. Of course, she looked gorgeous, and it honestly wasn't the most surprising of style moves, given her usual laid-back looks. Nonetheless, it made waves — a robe! on national television! But I'm here for it, and I immediately to get what Johnson had.
Johnson's robe is just like the one I used to think about stealing from my mom when I was younger, along with a spritz of her perfume and her pearl necklace. The robe in question,
 a blush-pink number sprinkled with camellia flowers, is so good that I'm convinced it would win over floral-print haters, too. It's an elevated option that's far more Zoom-appropriate than a terry cloth robe, which, at least for now, is the only type of robe I own.
Though Johnson's exact robe is sold out, I was happy to discover that the internet is chock-full of similar styles. There's this pretty botanical pink from MASONgrey that has a vintage look to it that I'm really loving. 
Simply put, Johnson's latest appearance really fueled my desire for a silk robe and I bet it will inspire you to scoop one up as well. Good thing there are plenty of options to choose from — find some of my favorites below." 
https://www.instyle.com/fashion/dakota-johnson-floral-silk-robes