MARIE CLAIRE | 30 Cozy Gifts for Their Next Night In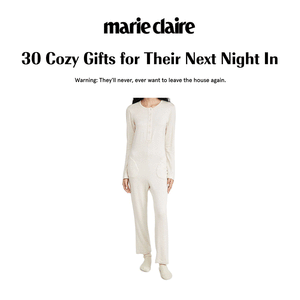 " There's nothing like coming home, changing into your pajamas, lighting a candle (or five) and cozying up with a blanket, despite the sub-zero temperatures outside. If you want to give the people you love most that same warm-from-within feeling this season, get inspired by these gifts. Whether they deserve to be sipping on a piping mug cup of hot chocolate after a long day, or just curling up in a plush robe and fuzzy socks in bed, you're bound to find.
Think of this piece from MASONgrey as the adult version of the pajamas you wore as a kid. Need I say more?" 
https://www.marieclaire.com/culture/g34760585/cozy-gifts/?slide=6