Popsugar | 14 Cute and Cozy Robes That Are Perfect For Gifting This Season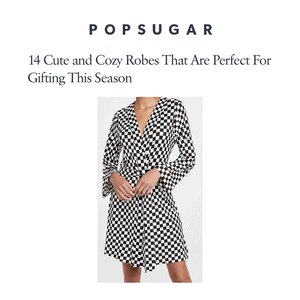 " We're firm believers that there's never a bad time to wear a robe around the house. We're pretty much living in ours these days, and we think they make the perfect holiday gifts, too. To help you get shopping and cross off some key people on your list, we searched for the best picks of the season.
Ahead, you can shop our 14 favorite robes right now. Whether you're looking to treat your someone special to a fluffy choice or even a cool weighted option that's relaxing, it's all here. Keep reading to shop, but beware, these are so good, you might want one, too.
Fashion-lovers will adore this cool MASONgrey classic short checkered robe!" 
https://www.popsugar.com/fashion/photo-gallery/47315757/image/47979059/Mason-Grey-Classic-Short-Checker-Robe