Seventeen | 33 Best Thoughtful Christmas Gifts Daughters Can Gift to Mom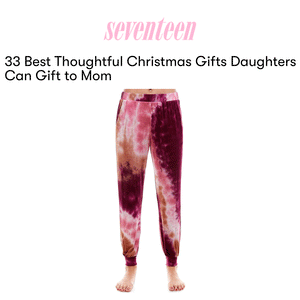 " On Christmas morning, your mom is going to be standing there like Leslie Knope, excitedly watching you open the mountains of thoughtful gifts she bought you. So you better have an amazing present (or two) to give her in return.
It's hard, though, because anything Mom really needs, she can just buy for herself. That's why you need to think of something crazy special – a gift idea she'll appreciate because it came from her daughter with love. And you're not going to get that from a sweater you found at the mall. Instead, shop unique presents (like the ones on this list) that are the perfect combo of creative, useful, and super touching. Cue the sentimental mom tears.
Mom's new work wardrobe includes a lot of sweats. These feel a little more elevated."
https://www.seventeen.com/life/friends-family/g30140775/gifts-for-mom-from-daughter/