The Code Of Style | Luxury loungewear, created by women for women who love to lounge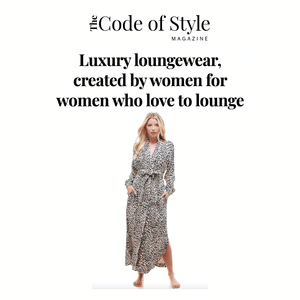 " Hi and Welcome back to
The Code of Style Magazine, 
and this article about luxury loungewear, created by women for women who love to lounge.
Many of us are staying at home during these uncertain times, and we want to feel comfortable and cozy, but we don't want to have to sacrifice looking stylish and sexy for comfort, and it is possible to have it all!
Today, I want to introduce you to two brands that both offer cozy and sexy luxury loungewear that makes women feel good about themselves all day, every day!
MASONgrey was started to fill a void in the world of comfort. Owner, Maxine Bascue aimed to create a Los Angeles-based brand that doesn't make women choose between feeling comfortable and feeling sexy. Coming from a family of pattern-makers, Maxine understands the importance of details and design, which is why each collection is created in small batches to ensure the finest cut and uncompromising brand experience.
Maxine grew up with a fashion background in a family of pattern makers and attention to detail was engrained in her from a young age. That's why everything at MASONgrey is curated in small batches for the best cut and quality, using the softest "cloud fabric".
At MASONgrey, they celebrate timeless elegance and femininity by offering unique designs carefully tailored to the highest standard.
After a year of selling in Farmer's Markets and PopUP shops, the brand has since made its debut in Nordstrom and on Shopbop.com, with chic cozy luxury loungewear that flatters all women regardless of their body type.
Everything is machine washable making them super low maintenance." 
https://thecodeofstyle.com/2020/12/15/luxury-loungewear-created-by-women-for-women-who-love-to-lounge/