WELL + GOOD | THE 9 BEST SHORT PAJAMA SETS TO SAVE YOU FROM NIGHT SWEATS DURING THE WARMER MONTHS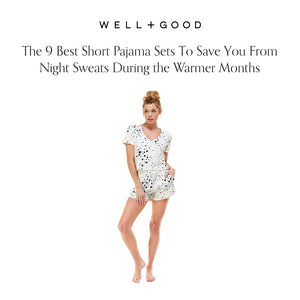 "Even with the quarantine lifestyle urging a great many of us to embrace dressing ourselves in a decidedly more comfortable way all the time, there's still a special feeling that comes with being able to swap your daytime comfies for your nighttime ones. This outfit shift can signify that the workday is done, and it's officially time for some R&R. And with the help of pajama short sets, the outfit change can still yield a cohesive and stylish look—through spring and beyond.
As seasons change, you can avoid dreaded night sweats with the help of pajama shorts sets. They're fun, flirty, and—if they're short enough—can feel like you're just wearing comfy undies that are slumber-party acceptable. Below, find our picks for the best pajama shorts sets to add to your nighttime rotation.
Known for its iconic onesies, MASONgrey also makes a whole host of other supremely cozy nightwear. This star-studded pajama shorts set is versatile enough for a long snooze, a midday nap, or a weekend lounge around the house." 
https://www.wellandgood.com/pajama-shorts-sets/